Israel Fine Art
 These fine lithographs are hand signed, limited editions and are numbered by the artist. Quantity is limited if you have any question please contact us.
*We'll ship anything on our site to anywhere for free with money back guarantee*
Peace Art - IRENE AWRET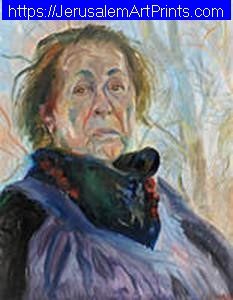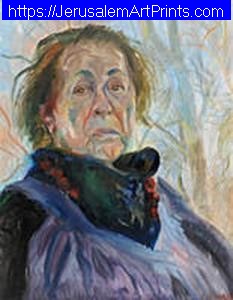 In a Nazi Camp in Belgium, Irene Awret Found Salvation in Art.
Alone in a Gestapo jail cell with blood-stained walls, Irene Spicker — 21 and Jewish — was terrified. She had fled her native Berlin in 1939 and managed to hide for several years in Belgium. But by 1943, the Nazi persecution of Jews was in full force, occupied Belgium was no longer a haven, and her captors were determined to learn from her the whereabouts of her father.
Spicker searched for some distraction to calm her fears. Luckily, the burgeoning artist still had her purse and the small sketchbook that she always carried. She proceeded to draw her left hand in careful detail.
It turned out to be a life-saving piece of art. But instead of the short-term stay experienced by most detainees, Spicker would spend a year and a half at the Mechelen camp in 1943 and 1944. She was assigned to the art workshop, where a small group of prisoners painted cardboard identification signs, linen armbands and other posters and signs for the camp.
When the rudimentary tasks were done, Spicker was forced to paint portraits of Nazi officers. By choice — and in secret — she painted portraits of her fellow prisoners. She also fell in love. Azriel Awret was another workshop artist, and he and Spicker married soon after Allied forces liberated Mechelen in September 1944. read more
Israeli    Art
Israel Art - AZRIEL AWRET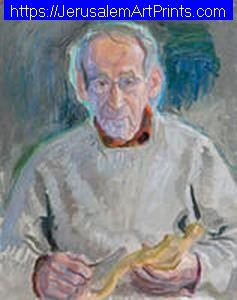 Azriel Awret was born in Lodz, Poland, and moved to Belgium where he lived in Brussels. He married an Aryan woman, Anna Louisa Bonhiere, which saved him from deportation. But in January 1943 he was interned in Malines camp. Awret was an engineer, so he was given employment as an electrician. While in Malines he met Irène Spicker, who was working in the Mahlerstube (art workshop). They married after the war and moved to Israel, settling in Safed and continuing their artistic activity. Today they divide their time between Israel and the United States.
The Beit Lohamei Haghetaot (The Ghetto Fighters' House Museum) art collection includes works by Awret from his time in Malines. These works depict various aspects of life in Malines, including figures of internees. They were donated by the artist.Read more
PEACE IRENE AWRET
Folk Art - RAPHAEL UZAN
Born in Tunis in 1923. In 1949  he immigrated to Israel and settled in the the ancient town of Zefat in the mountains of North Israel. . The atmosphere of safed, its beautiful landscape. Its old synagogues and Kabbalistic tradition made a deep impression on him as evidenced in his illustrations of the Bible in a decorative naive style.
Uzan is a modest Gardner and in his everyday work takes in the beautiful scenery around him. His passion for wildlife is expressed in his colorful and sensitive paintings. In our artificial modern life it is a real blessing to have artists of his kind which paint with their heart and soul.
Each of these Raphael Uzan lithographs were printed by the traditional lithographic method. On Gvarro paper, using a minimum of fifteen colors.Read more
Jewish Art